Fire On Her Tongue: An Anthology of Contemporary Women's Poetry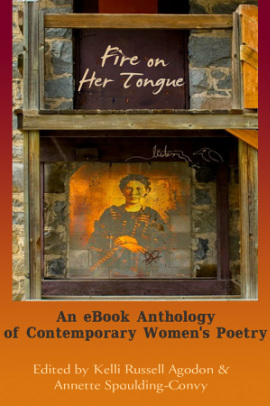 ---
Available Now:
Fire On Her Tongue: An eBook Anthology
of Contemporary Women's Poetry
About Fire On Her Tongue: An eBook Anthology
of Contemporary Women's Poetry

Kelli Russell Agodon & Annette Spaulding-Convy have collaborated to produce the first eBook of contemporary women's poetry featuring:

Kim Addonizio, Deborah Ager, Ivy Alvarez, Nin Andrews, Elizabeth Aoki, Elizabeth Austen, Lana Hechtman Ayers, Dorothy Barresi, Judith Barrington, Mary Biddinger, Elizabeth Bradfield, Ronda Broatch, Gloria Burgess, Jill Crammond, Barbara Crooker, Rachel Dacus, Madeline DeFrees, Susan Elbe, Patricia Fargnoli, Annie Finch, Kathleen Flenniken, Rachel Contreni Flynn, Rebecca Foust, Suzanne Frischkorn, Jeannine Hall Gailey, Maya Ganesan, Arielle Greenberg, Kate Greenstreet, Lola Haskins, Eloise Klein Healy, Jane Hirshfield, Erin Coughlin Hollowell, Anna Maria Hong, Holly Hughes, Ann Batchelor Hursey, Luisa A. Igloria, Jill McCabe Johnson, Tina Kelley, Janet Norman Knox, Keetje Kuipers, Dorianne Laux, Jenifer Browne Lawrence, Kate Lebo, Carol Levin, Rebecca Loudon, Erin Malone, Marjorie Manwaring, Frances McCue, Aimee Nezhukumatathil, January Gill O'Neil, Alicia Ostriker, Nancy Pagh, Alison Pelegrin, Susan Rich, Rachel Rose, Natasha Sajé, Peggy Shumaker, Martha Silano, Judith Skillman, Patricia Smith, Ann Spiers, A.E. Stallings, Joannie Kervran Stangeland, Marilyn L. Taylor, Molly Tenenbaum, Ann Tweedy, Nance Van Winckel, Katrina Vandenberg, Sarah Vap, Kary Wayson, Katharine Whitcomb, Wendy Wisner, Rachel Zucker.

Fire On Her Tongue is a unique collection created specifically with eBook readers in mind. This anthology has been largely produced with a zero-carbon footprint as a "green" way to share today's most exciting poetry with a larger audience. Fire On Her Tongue: An eBook Anthology of Contemporary Women's Poetry is an amazing resource for any reader or student who wants to explore an in-depth selection of work from some of today's strongest women poets.

Watch the Book Trailer for Fire On Her Tongue:
---

Thank you for your support of Two Sylvias Press.